China Light Textile City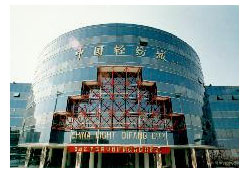 China Light Textile City was first erected in October, 1998.With hard creation, now it holds 19 professional markets in the four big trading districts of the east, the middle, the west and the north, with a land area of 492,000 meters including a construction area of 605,000 meters, and 13,500 business rooms, among which there are 13 textile markets, 1 light textile raw material market, and textile machinery/light industrial product markets. China Light Textile City gathers various kinds of famous and excellent products and foreign fine products, among them over 10 thousands of cloth kinds for sales with client flow of over 70,000 pesontime per day, and sales value of about RMB 50 million, market exchange sum stands at the 2nd position of the national 100 strongest markets continuously and assessed as one of the national civilized markets for many years.
China Light Textile City is formerly Shaoxing Light Textile Market. In June, 1992 it was changed into the present name with the assessment of the National Industrial and Commercial Administration Bureau, and it is the first professional one crowned "China". In February, 1997 it was the first professional market stock company put up to the Shanghai stock market in China.
Now at the substitution of the old for the new century, China Light Textile City is striving to make " the 2nd-phase creation" developing, perfecting, improving multi-kind light textile group bodies, hard constructing it into the China /international trading exchange centre of textiles, one of information /scientific-tech / price discovery.
Source:绍兴市政府