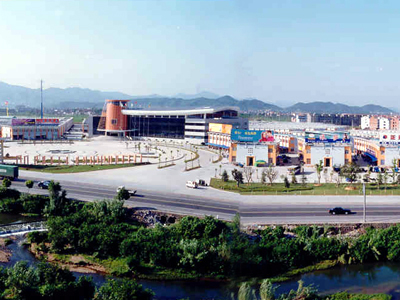 Datang Textile and Sock City lies at the junction of the Hangzhou-Jinhua, Shaoxing-Datang and Hangzhou-Jinhua-Quzhou expressways, one of the major highway hubs in central Zhejiang.
The sock industry is only 50 minutes from Yiwu Small Commodities City, Shaoxing Keqiao Textile Market and Hangzhou Xiaoshan International Airport, and 170 km from the Ningbo customs checkpoint. There is easy accessibility for its development.
Datang Textile and Sock City is built on a 26 hectare site with a total investment of Rmb206 million (HK$194.3 million). With over 1,200 shops and 400 stalls and a combined construction area of 120,000 sqm, it is a large modern market for the wholesaling and retailing of light textile raw materials, socks and stockings, and related machines and parts.
This is a sock city in every sense of the word, as every kind of raw materials, machines and parts for making socks and stockings can be found here.
The light textile raw materials market forms the main body of Datang Textile and Sock City.
Datang Textile and Sock City.
Rows and rows of stalls.
There are 800 shops in the market, including over 400 individual business operators and 200 companies. A wide range of textile raw materials, including polyester, polypropylene, latex, yarns and rubber threads of famous brands and fine quality are available at this market.
Leading names in the production of textile raw materials, such as Shanghai Petrochemical, Liaoyang Chemical Fibres, Guangdong Zhongshan Chemical Fibres and Hunan Chengde Chemical Fibres, have all established their footholds here. Attracted by the fame of Datang, many domestic enterprises have set up sales outlets in this market, which grossed Rmb5 billion (HK$4.7 billion) in 2002.
An array of famous brands on offer.
As the showcase of Datang's sock industry, the market offers a wide selection of fashionable socks and stockings of fine quality at reasonable prices, including those bearing illustrious names like Kangqiya, Zhongzhou, Menglian and Buren.
Customers, both wholesale and retail, can satisfy needs here. A production base encompassing 18 towns with Datang as the core and producing billions of pairs of socks and stockings annually has developed in Zhuji. Datang sock city has opened the market for local products. Socks and stockings produced in Datang now have a 65% share of the national market and a 35% share of the international market.
Datang Textile and Sock City is also a major distribution centre for sock making machines and parts in China. The 250-plus dealers in the market are selling over 10,000 machines for making various types of socks and stockings annually.
Internationally renowned brands such as Lonati, Matec and Sangiacomo from Italy, Brother, Fusheng, Mingguang and International Nylon from South Korea, and Yaoshun and Takang from Taiwan can all be found here.
Business environment gets better
Excellent delivery and through shipment services available.
In addition to its large size, Datang Textile and Sock City also boasts a full range of supporting facilities, such as parking, logistics, telecommunications, banking, hotels and restaurants, as well as government departments for industrial and commercial administration, taxation and public security. Here, traders can easily make arrangements for transport, accommodation, warehousing and other needs.
Shop space for raw materials and machines - monthly rentals for a 30 sqm shop - range between Rmb10,000 and Rmb30,000 (HK$9,433 and HK$28,300).
Setting up business in the market is simple and easy. A buyer only needs to pay the rent and apply for a business licence with valid personal identification papers (ID card or passport).
The whole process takes only one day. For foreigners who need to base in Datang, the departments concerned will help them apply for temporary residence permits.