Shaoxing, a beautiful city in the north of Zhejiang, has a rich and famed history spanning over 2,500 years. Within Shaoxing, there is the Lu Xun Native Place, Dayu Tomb, Shen Garden, East Lake and Lan Pavilion (Orchid Pavilion/Lanting). Beyond downtown Shaoxing, there are other great attractions awaiting you, such as Wuxie (Five Waterfalls) in Zhuji, and the Keyan Scenic Area in Shaoxing County.
Lu Xun Native Place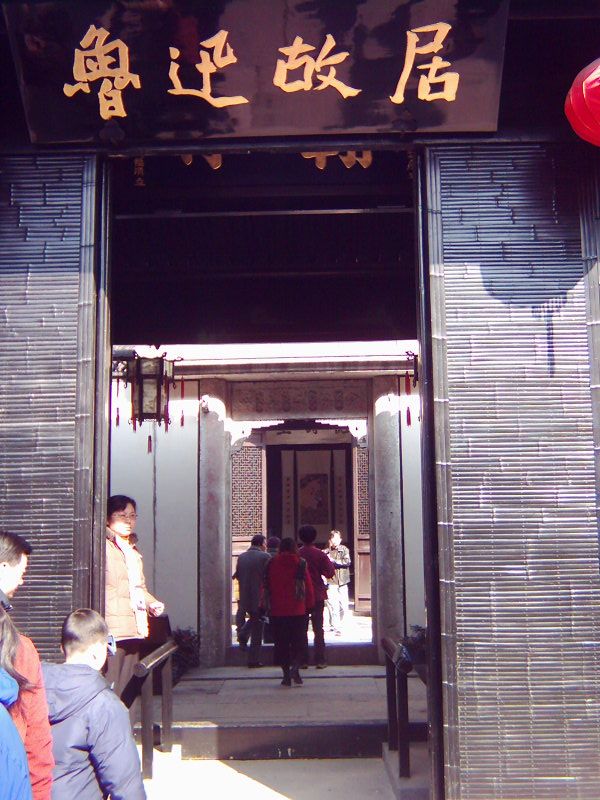 Hours: 8:30am-5pm
Address: No. 393 Luxun Zhong Lu, Shaoxing
Phone Number: +86 (0)575 8513 2080, 8522 6067 (Booking line)
Price: Free (Book the ticket before you go)
Lu Xun, the great contemporary novelist of modern China, spent his teenage years in Shaoxing.The street contains a number of sites such as Luxun Museum, Luxun's Former Residence, and Sanwei Shuwu, where Luxun conducted his studies. Luxun Middle Street is also home to many traditional Chinese restaurants, cafes, and bookshops. When strolling along the street, you will feel as if you are part of one of Luxun's timelss novels. Luxun Native Place is a fantastic opportunity to soak in classic Chinese culture in the "Oriental Venice".
Shen Garden
Address: Yanghe Lane, Yan`a Lu, Shaoxing
Phone Number: +86 (0)575 8806 6468
The Shen's Garden is located at Luxun Middle Street, about 200 meters away from the Luxun Native Place. This garden boasts more than 800 years of history. Shen is the family name of the garden's former owner, hence the name, "The Shen's Garden". This garden is also known as the Love Garden, in accordance with one classic love story. Lu You (1125-1210), one of China's most famous poets, actually authored more poems than any other poet in Chinese history, nearly 10,000! In the year 1151 Lu You met his lover Tang Wan in this very garden, and then composed a poem on the wall in the garden. In the Chinese tradition, parents are responsible for the marriages of their children. Young adults were not necssarily permitted to marry to the one he or she most desired. Sadly, Lu You and his lover suffered the same fate as they too were not allowed to marry. Their last date was spent in The Shen's Garden, so visitors come to the Shen's Garden not only for the beautiful ambiance, but also to understand this heartbreaking love story. The Shen's Garden is an obvious symbol of love, so young people often come here to display their love to one another.
Lan Pavilion (Lanting or Orchid Pavilion)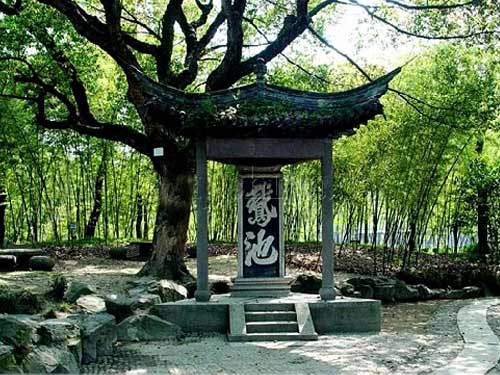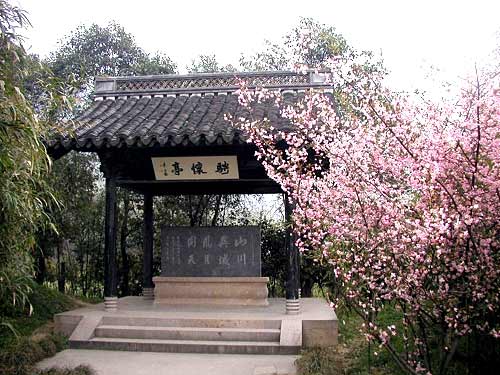 Address: Lanting Town, Shaoxing
Phone Number: +86 (0)575 8460 6885, 8460 6887
The Orchid Pavilion is 13 kilometers away from the city center. During the Chunqiu dynasty, the king of Yue planted orchids here and later a pavillion was constructed here during the Han dynasty. Thus, there is a pretty simple explanation for the name of this popular tourist attraction today. The Orchid Pavilion is Shaoxing's most famous landmark. Visitors have been making the journey to see the Orchid Pavillion for more than 1600 years. In 353 A.D., the noted calligrapher Wang Xizhi wrote some of his celebrated calligraphy here. Since then, the Orchid Pavilion has been known as a home of Calligraphy.
The main sights in the Orchid Pavilion are: the Goose Pool Stele, the Orchid Pavilion Stele, the Orchid Pavilion River, and the Calligraphy Museum. The Goose Pool Stele was created by the calligrapher Wang Xizhi and his son Wang Xianzhi. Wang Xizhi's favourite animal was the goose, and the goose theme is prevalent throughout the Orchid Pavilion. The Orchid Pavilion is not only one of the four famous pavilions in China, but is also a famed garden.
Dayu Tomb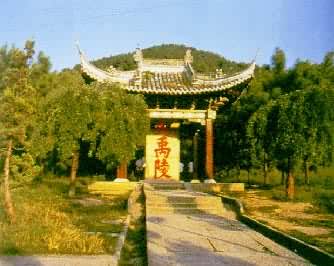 Address: Kuaiji Mountain Scenic Spot, Shaoxing
Phone Number:+86 (0)575 8836 6666
Located four kilometers southeast of Shaoxing is the Dayu Tomb. Dayu, also known as Yu the Great, was the King of Xia Dynasty (22-16 B.C.). He is remembered for his outstanding efforts in flood control. Inside the Dayu Tomb site area, there are the Dayu Temple and Memorial Hall, as well as the Xianruo Pavilion. For 5,000 years, the Dayu Tomb has been a Mecca for people to offer sacrifices and pay respect to Yu the Great.
East Lake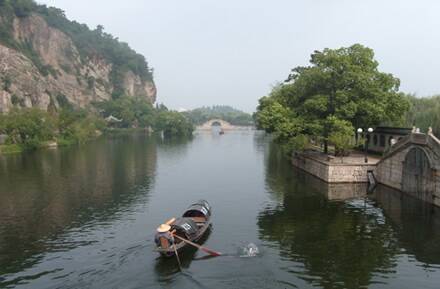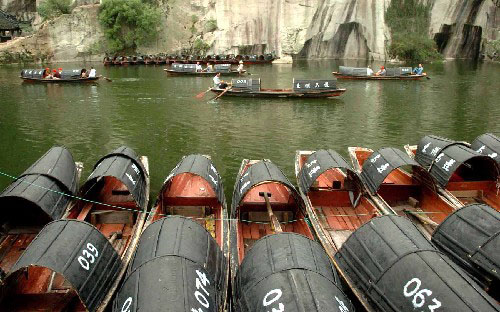 Address: Donghu Town, Shaoxing
Phone Number:+86 (0)575 8864 9560
East Lake is one of the Three Famous Lakes in Zhejiang, besides West Lake in Hangzhou and Nanhu in Jiaxing. Located at the eastern suburbs of Shaoxing and three kilometers from downtown Shaoxing, East Lake is an elegant scenic spot comprising lakes, mountains and stone cliff structures. What's truly unique about East Lake is the three fascinating caves; Xiantao (fairy peach) Cave; Langba (horn) Cave; and Taogong Cave. Taking a traditional Wupeng boat tour on East Lake is the best way to take in its magnificent scenery and to experience its spectacular caves.
Keyan Scenic Area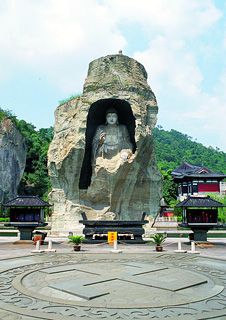 Hours: 8:30am-5pm
Address: No. 393 Luxun Zhong Lu, Shaoxing
Phone Number: +86 (0)575 4361555
Website: http://www.keyan.com.cn/en/
Keyan Scenic Spot is the one of the first national "AAAA level tourist spots" and "well-known brands for tourism industry in China" as well as the central scenic spot of the Jianhu-Keyan Tourist Area in Shaoxing County. It is located at 8km west of Shaoxing, 12km east of Hangzhou suburbs and closely adjacent to China Light Textile Center. It is a place famous for its ancient Yue state culture at its core, integrating the features of the Shaoxing watery regions, the relics of the ancient quarry as well as mountains forestry ecology into a whole. It was first built in the Han dynasty, with a history of over 1800 years long till now. In the Qing dynasty, the well-known "eight scenic spots of Keyan" came into being, and has been places of great interest since then in Shaoxing.
Wuxie (Five Waterfalls)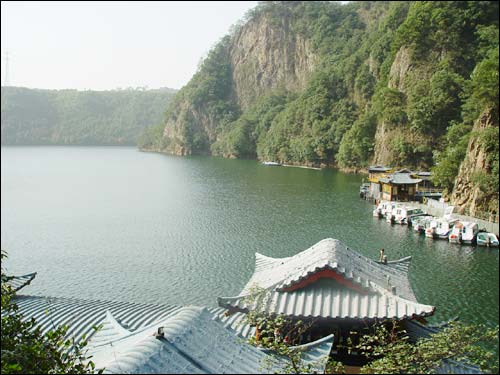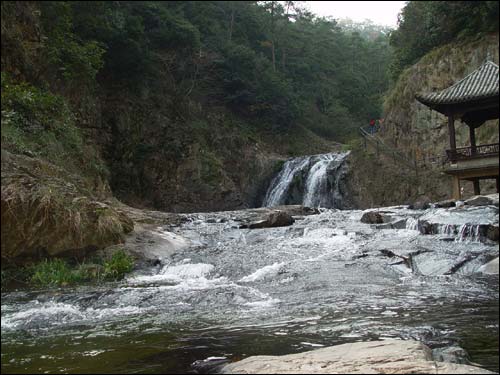 Address: No. 1 Huansha Bei Lu, Wuxie Town, Zhuji
Phone Number: +86 (0)575 8777 2202, 8777 3688,8701 0388
Wuxie is one of the most magnificent waterfall areas in Zhejiang. Located in Zhuji (a county-level city in Shaoxing), Wuxie is about a one-hour drive from Shaoxing. Wuxie is famous for the five connecting waterfalls, each with a unique shape. If you'd like to climb hills and experience natural beauty at its best, why not come and visit Wuxie?